Walking to mark one's determination…
was the peak of non-violent struggles, but Gandhi's strict fasts – in order to be stronger during non-violent struggles for freedom, and more resistant in his claims for justice by purifying oneself, could inspire us for 2019 a very important year for the European Union?
Our Europe needs to be revived, through our resilient support for social justice and equality, for more environmental concern, for more sense of brotherhood, for a better defense of human rights and liberties. With all the challenges we face on a global scale in the early 21st century, here is our French initiative, European vocation, hoping to raise consciousness worldwide – in order to give hope to all those who suffer everywhere, and give a better future to all the children all over the planet !
"Be the change you want to see in the World"

Gandhi used to say…
What if each of us started to do this symbolic and powerful action: to deprive ourselves something for a day, so that we could collect in it the strengths of sharing and exemplarity, and spiritual or philosophical forces of authenticity & humanity? Atheists, agnostics, or believers, let's try our interconvictional fasting ?
Also, 112 *** signatories invite volunteer fasting, during 24 hours to the water or other forms of fasts (cigarettes, alcohol, addictions …) whatever their religious or philosophical convictions, first of all at seven first symbolic dates until the European elections, remaining free to choose one or more day (s) according to their possibilities …
Each will be able to complete his action by donating the cost of meals (or other) not consumed by paying it to one of the recommended donations which will be either local (EU) or more international (non-EU).

French, European and international personalities and citizens
will support the project as and when
and let him discover little by little, first until the elections of May 26,
then then in the year 2019 in 7 new fasting proposals !
…
*** NB- 112 as the emergency number everywhere in the European Community
( in addition to national numbers)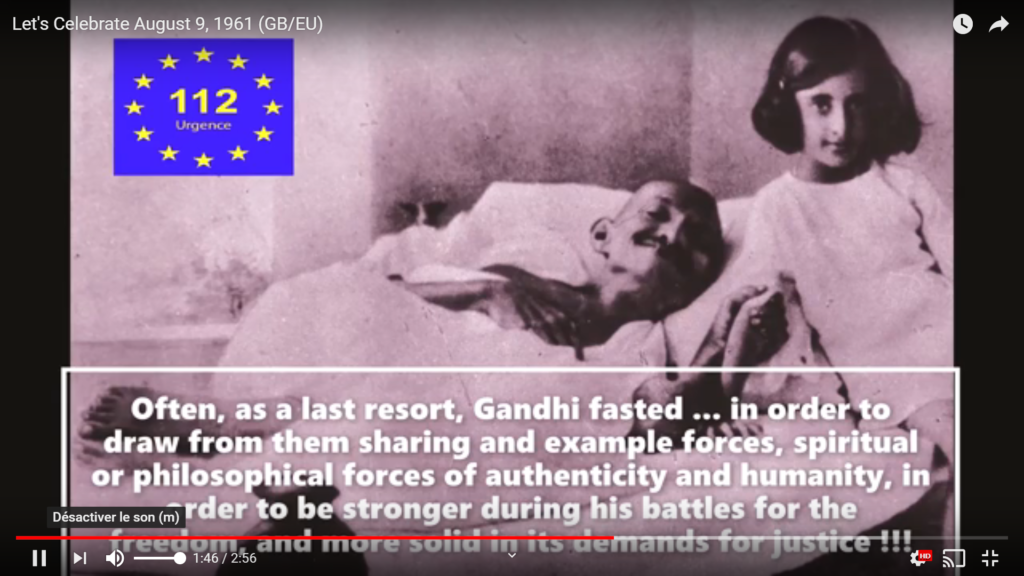 This image is taken from the new video for our next Fast, this FRIDAY, AUGUST 9, 2019,
anniversary date GB / EU, against brexit, is here: https://youtu.be/Z6jWEuEtlMU
Here, below, 17 of our first 20 videos published in 2019 & subtitled in English …
You can all find on our channel European Fast 112 and even subscribe 😉
https://www.youtube.com/channel/UCHqH71XyzjfPbAICIxXoHgA/videos?view_as=subscriber